The
no-code SaaS

& business app builder

RailsRocket is an easy to use, visual, no-code platform for creating custom business apps, backed by real Rails code
To participate in the alpha, or join public beta waitlist: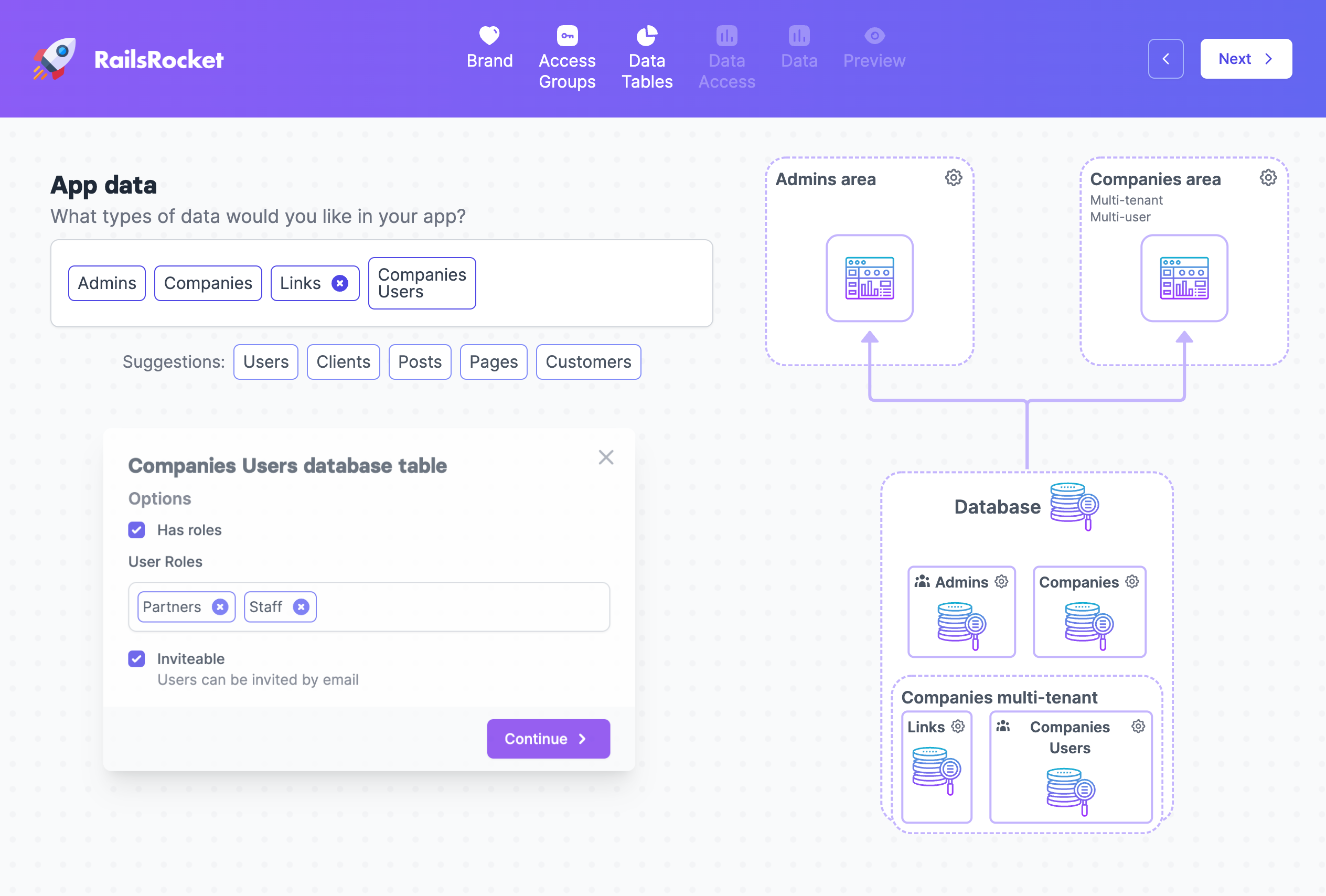 What makes us different
SaaS and business app focused
We provide the drag and drop building blocks, templates and workflows to make it dead simple to create SaaS apps and real business tools
Easy to get started
Get to a working, branded app in a matter of minutes using our dead-simple 5-step onboarding
Easy to use
Interactive visual app canvas clearly shows how your app works. A visual form builder makes adding or changing your app data a breeze
Code backed
All our apps are real Ruby on Rails apps which can be exported, pushed to Git, hosted anywhere and worked on by Rails developers
Marketplace
Easily find real, vetted developers who can extend your apps with or without code
Our Alpha programme
Get your app built for free!
We're looking for 12 alpha customers who need a business or SaaS app built soon.
If you have a small to mid-sized business or SaaS app that you are ready to build we'd love to hear from you.
Get a free app and get involved early with a game-changing no-code platform!
Here's how it works
1.

Quick call

Understand you and your needs

2.

Spec and timeline

We'll put this together so you know what to expect from us

3.

Build

We build out your app including any custom code

4.

Approval and amends

Quick call to make sure you're happy with the app

5.

Go-live

Get the app hosted and assist with going live
What can you build with RailsRocket?
FullCircle is a sales data tool that stores data on companies and allows users to filter that data and download PNGs with the logos of the filtered companies.
Take a tour of the app and see how quickly it was built here.

MVPs
Quickly get your app up and running. With apps backed by code there's no need to worry about the future

SaaS apps
Provide data and services, setup subscriptions and collect payment with Stripe

User-facing portals
Secure and access to content and data for customers, clients or employees. Define roles and control which data is shared with which users

Internal Business apps
Define teams, manage and collaborate on data from various sources, automate common tasks and integrate with other apps in a unified way

Multi-tenant apps
Easily silo data and customise views based on the logged in tenant or user

Workflows & wizards
Define multi-stage processes and create customised wizards to help users complete tasks and tie into other APIs

Dashboards
Consolidate multiple sources of data into a single dashboard, with customised charts and filters.
More app ideas...
Customer Success Dashboard
Customer Support Tool
Inventory Mangement
Automated Email Sender
API Proxy with Billing
Sales Data Tool
GDPR Data Tool
Appointment booking app
Recruitment Process Outsourcing platform
Event listing and management app
Summer camp management platform
Expense tracker
Clinic Management System
Online Ad and Competitor analysis tool
Team based opportunity CRM
Licensing board management app
Online job board
...
Thought through building blocks
Our library of building blocks are designed to work together effortlessly. You can combine and connect them in different ways for an almost infinite number of possibilities.
Connected data
Listing, management, forms and public data-backed widgets and pages. All from a single source and seamlessly wired together.
Branded dashboards
Bringing all your data, objects and users together in a branded panel for easy management. Key data and metrics are easily surfaced.
Sites and Pages
Visually create attractive pages backed by data. Easily connect multiple pages into a site. You can even create multiple sites in the same app.
Embeds and Popups
Embed your app or a part of it into an existing site, either inline within a page, or as a popup, using only a single Javascript tag.
Front end components
Loads of styled, branded, templated, interactive components let you present your data to the user in the way that's right for your app.
Workflow
Create automations and workflows in a visual environment. Data updates, notifications, reminders and integrations all handled in one place.
Forms
Visual designer with a host of form controls and layouts all automatically connected to data with validation built in.
Wizards
Easily build multistage forms including progress saving and reminders.
APIs
Create public or protected APIs onto your data. All fully documented for easy use and consumption by others.
Content management

Easily create blogs and pages. Make interface copy editable and make your sites multilingual.

Charts, numbers & stats

Define charts from your data or call out individual stats. Pepper through your app or assemble into dashboards.

Team listings

Simple and manageable team areas for your app. Store data in the app or pull it from elsewhere.

Feeds

Clean visual ways to display feeds of time-series data such as posts, activity or price changes.

Media asset management

Easily add a media library to your app with a user friendly uploader.

Calendaring

Thought through interactive calendar primitives to add to your app. Sophisticated scheduling on top.

Reminders

Easily add reminders for appointments or other events. SMS, Email or notification. Configurable schedule.

Soft delete

Archive your data instead of deleting it forever from the system.
Demo apps
Give these fully featured demo apps a try without signing up.
Save changes and use them as a starting point for your own app.
Who could use Rails Rocket?
New entrepreneurs Get your MVP up lightning fast, realise your idea yourself now without worrying about scaling or platform limitations in the future.
Existing businesses If you've always wanted software to manage your business but been put off by high development costs, now you can build it yourself at a fraction of the cost.
Marketers Easily create new sites, pages, lead gen forms and other web based marketing materials. All dynamic, with content manageable by your team.
Sales teams Easily create lead management, CRM and team management tools bespoke to your specific needs. No worries about lock-in.
Developers Build apps more quickly for your clients. Get new clients by signing up to the developer marketplace. Easily create tooling to manage workflow or teams.
Agencies Keep costs down by building your clients' apps in RailsRocket. Get new clients by signing up to the developer marketplace.
Get notified when we're launching.
And optionally participate in the alpha, or join the beta waitlist.